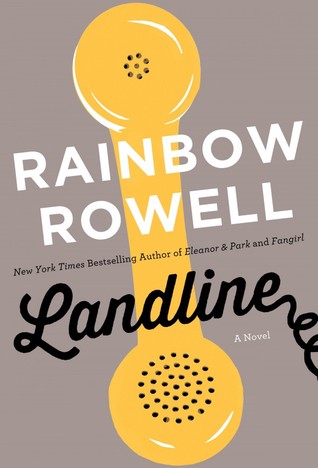 Happy book birthday to Rainbow Rowell! Her second adult novel, LANDLINE, was released today, and I was lucky enough to win an ARC from GoodReads. I just finished reading it last night, and Ms. Rowell did not disappoint!
Georgie McCool is a wife, mother of two, and a television writer. She and her writing partner, Seth, have dreamed of creating their own show since they were both in college working on the university's comedy magazine. They are offered just that opportunity as the story begins. The only hitch: they need four episodes written before their network meeting, which happens to be right after Christmas. So Georgie decides not to go with her husband Neal and their two daughters to spend Christmas at her mother-in-law's house. A fight ensues, Neal leaves for Omaha with the girls, and Georgie realizes her marriage is in a precarious position.
One thing that might help her fix it: the old landline phone in her childhood room that somehow can place calls to the past. Soon Georgie is talking to college-aged Neal and trying to figure out if she can fix her marriage before it begins. Or if 1998 Neal would be better off without Georgie in his life at all.
This was my first adult book by Rainbow Rowell (ATTACHMENTS is now on my TBR!), but one thing I found constant between this book and her YA ones is the voice. Her narrative voice is strong, witty, and a little sarcastic, and I was hooked from the beginning. Though I couldn't relate to Georgie and her marital problems, I trusted her. I didn't agree with some of her choices, but I never found her annoying. Several times throughout the book she (intentionally or unintentionally) tries to sabotage her marriage by picking fights with Neal, but her personality was well-developed enough that her actions made sense to me. She was a great character to follow through this story.
Rainbow Rowell also created a fantastic supporting cast (no surprise there)! Georgie's pug-obsessed mother, much younger sister Heather, and Seth all added so much color to the story. Georgie's daughters were also precious, especially Noomi, a four year old who pretends to be a cat and communicates partially in "meow"s. Her husband Neal wasn't my favorite, mostly because he was hard to wrap my brain around. He's pretty stoic and a little grumpy, and (like college-aged Georgie), I think I struggled to figure out what he was thinking. He definitely had some sweet moments, though.
This book is primarily about a marriage that's fading. Nothing is inherently wrong—there's no cheating or lying or financial troubles—but the two people are drifting apart. Georgie struggles with whether to save her marriage or let it go. I felt like the portrayal of the marriage was realistic, and I appreciated the lack of Major Drama. It provided me with insight into a less-than-perfect marriage and even though I haven't been married, I feel like I really understand this couple's relationship and their ideas about marriage. I definitely recommend this book to Rainbow Rowell fans or anyone who wants a realistic portrayal of a struggling marriage (with a touch of magical realism).