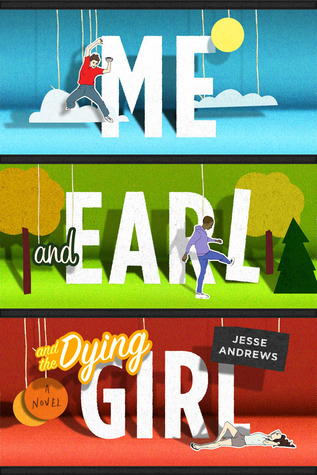 Greg makes bad movies. He knows this. The worst movie he ever made was for Rachel, a girl at school he used to be acquaintances with who has just been diagnosed with cancer. Greg's mom urges him to spend time with her, which he reluctantly does. Even though most of their time spent together involves Greg rambling nervously, it seems to cheer Rachel up. Until another girl at school suggests that Greg and his friend/movie-making partner Earl make a movie for Rachel (the previously referenced Worst Movie Ever Made). Greg and Earl have never made a movie for another person—they haven't let anyone see any of their movies before…until Rachel.
This book is difficult to review. Greg is our narrator, and he spends most of the time telling us to put the book down and apologizing for the brain cells that are probably dying as we read this crap book. But contrary to what Greg thinks, this book is not crap. It is also not THE FAULT IN OUR STARS. There is no romance (Greg blatantly outlines his lack of luck with girls in an early chapter), and Greg is convinced he learns nothing from Rachel's illness. The reader, however, can see otherwise. Hidden in Greg's various rants is growth, and he learns some important truths about terminal illness and its unfairness.
Greg's narrative voice is straight out of a high school hallway. Funny and crass and blunt. His friend Earl's is even more so. They felt like such real people, which I really liked. Rachel's cancer is only one subplot in the novel. Most of it revolves around Greg and Earl's various movie attempts. We also see Greg try to survive high school by being acquaintances with all different cliques but not belonging to any. He thinks this strategy is brilliant: he has no enemies. But readers quickly see that he has no real friends, either, except for maybe Earl. We keep flipping pages in hopes that Greg will realize this as well, that Rachel may be the closest thing he has to a real friend and he is about to lose her.
Don't get me wrong, the book is not perfect. Sometimes the voice gets old, and Earl swears a TON. But Earl has some really powerful scenes that show the reader he is more connected to the reality of Rachel's situation than Greg is, and that hit me strongly. The book is set in Pittsburgh (where I'm currently in school), so it was fun to recognize certain pieces of the setting.
If you're looking for a quick read with lots of humor, sarcasm, and a slightly unreliable narrator, give Jesse Andrews's ME AND EARL AND THE DYING GIRL a try. It's not heavy on the cancer plot, but there's enough in the story to have power and emotion. If you're patient with Greg, it pays off in the end.