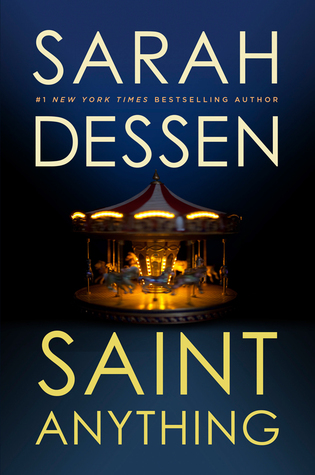 Sydney has always felt invisible, always in her charismatic (and increasingly reckless) older brother's shadow. But when Peyton is involved in a drunk-driving accident that leaves a boy paralyzed, he is sent to jail, upending the family's world. More than ever, everything becomes All About Peyton. Their mom constantly visits him and talks to lawyers and—in Sydney's eyes—makes excuses for Peyton's behavior. Everyone at school is talking about the accident, so Sydney decides to transfer to the local public school for a fresh start. And Peyton's friend Ames, who has taken on a supporting role in the family since Peyton's incarceration, gives Sydney the creeps for reasons she can't identify.
Then Sydney meets the Chathams, a family that welcomes her as one of their own, and she realizes she might not have to remain invisible after all.
Sarah Dessen is back writing what she does best: complex families, inner conflict, and solid friendships.
She just did a panel at BookCon
with Gayle Forman and Jenny Han (can you say GOLD?) about best friends, and she said Layla (Sydney's new friend) is the friend she wished she had at the time of writing the book. Layla is one of my favorite parts of the book as well. She's such a good friend. No agendas, no cattiness, the kind of friend every girl needs. There's a scene (no spoilers) where Layla sleeps over at Sydney's, and her loyalty and protectiveness just caught in my chest while I read it.
An issue Sarah explores both in SAINT ANYTHING and
an essay she wrote in Seventeen
is the idea of the "nice" girl. The girl who feels she can't say when she's uncomfortable out of fear of hurting others. Sarah was very honest in her essay about hanging around an older guy who made her uncomfortable, even though she had no solid evidence or reasons why, just her gut. But your gut, Sarah insists, is enough. Sydney goes through a similar conflict in SAINT ANYTHING with Ames, her brother's friend. Sarah wrote the subplot SO well, and at times my skin was crawling. It's an important subject, especially for girls who (like me) worry a lot about being considered "nice."
So read Sarah's essay and then go grab your copy of SAINT ANYTHING. Warning: you'd better have some pizza and French fries nearby because you will crave them when you read this book!
Because I will post this picture every day for the rest of eternity.
At Sarah's signing in Princeton, NJ
Read my recap of Sarah's signing
here
!