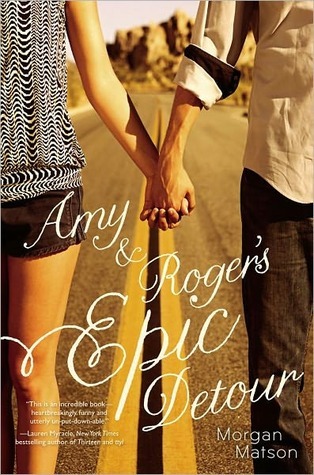 Three months after her father dies in a car accident, Amy is moving to Connecticut. Per her mother's request, Amy has been tasked with getting the family car across the country. One problem: Amy hasn't gotten behind the wheel since her father's death.
Enter Roger, a family friend with baggage of his own. Together, Amy and Roger disregard her mom's carefully planned maps and reservations in favor of a spontaneous detour. They visit Yosemite, pretend to be newlyweds in order to snag the last available room at a fancy hotel, and attend a party at Roger's university. All the while, they work out their own problems and begin to revel in the unexpected.
I adore this book! I sat on the couch and read most of it in one sitting. There's something intoxicating about a road trip book that just asks you to read it in a single sitting. The books is bursting with fun add-ins, like Roger's road trip playlists and photos Amy takes along the way. Similar to the playlists in Morgan Matson's most recent book, SINCE YOU'VE BEEN GONE, I thought these pieces gave AMY & ROGER a little something extra.
The characters were great. Amy carries the grief of her father's death without it weighing the story down. Discovering Roger's baggage was intriguing as well, even though it's pretty obvious in the first one hundred pages (to both Amy and reader) what it is. All the characters they encounter on the road trip are colorful and tons of fun. Bronwyn, Roger's college friend and peppy resident assistant, is my favorite. This exchange with Amy when they're getting ready for a party had me laughing out loud.
Bronwyn: [after handing Amy a bra] Don't worry, it's new…I bought it for my roommate last year. I mean, the girl lived in her sports bra. Such a shame. But she told me she didn't want it. And that I was being inappropriate. Can you believe it? Try it on.
*tosses Amy matching underwear*
Amy: You bought your roommate underwear?
Bronwyn: Well, it was a set!
LOVE her! This book had many more funny moments but also some serious ones that balance it out well. Amy's twin brother is in rehab, which brings about a few of those heavier moments. And of course, Amy finally confronting her father's death is emotional.
Overall, AMY & ROGER'S EPIC DETOUR is such a fun story that will make you want to plan a road trip of your own!