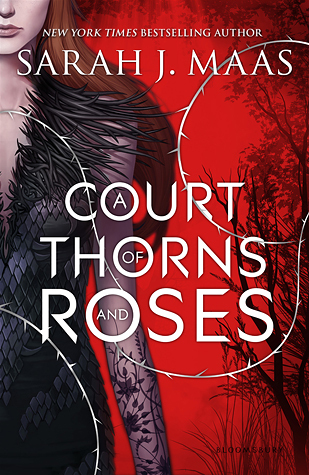 After Feyre kills a wolf in the woods while hunting to feed her family, a beast bursts into her home demanding retribution. Turns out it wasn't a wolf she killed but a faerie in wolf form. The Fae are lethal, and humans live in a small corner of the land, fearing the Fae may one day attack like they did years ago. The beast gives Feyre two options: die or come live in his court. She soon discovers the beast is actually Tamlin, one of the Fae.
A COURT OF THORNS AND ROSES is a new series by Sarah J. Maas based on Beauty and the Beast mythology. The story was also inspired by the fairytale "East of the Sun and West of the Moon."
Like many Sarah J. Maas fans, I went into this book with Celaena and THRONE OF GLASS in my mind. Celaena is a tough gal to compete with, and while Feyre is a solid heroine with character development, she fell short of Celaena for me. Celaena's personality is bold and sarcastic, while Feyre keeps everything bottled up inside. It might be an unfair comparison for me to make, since these are two different women in different worlds. Both do what they need to do to survive: Celaena (at the beginning of TOG) enters the contest to become the King's Assassin to get out of slavery, and Feyre's actions (hunting, leaving with Tamlin) revolve around saving her family.
I also anticipated more action in ACOTAR than we get (probably another unfair TOG comparison). When I went back and thought about Beauty and the Beast, though, most of the story is Belle living in the Beast's castle and getting to know him, so ACOTAR's structure makes sense. The last third of the book, though, HOLY COW it steps up the action! So that made up for the book's slower middle.
Sarah J. Maas is excellent at developing a well fleshed out cast of characters, from Tamlin's right hand man, Lucian, to Rhysand, the ruler of another faerie court. By the end of the book I'd started to like Rhysand, which I'm not entirely sure about (he's one of those morally ambiguous characters), so I can't wait to see where book two takes the story.
The worldbuilding is fantastic, and the faerie magic system is different from the lore in THRONE OF GLASS, so nothing feels repetitive. Sarah J. Maas took on a fairytale retelling but gave it a life of its own—it doesn't follow Beauty and the Beast to the letter, so there is still room for surprises. If you enjoy high fantasy and fairytales, A COURT OF THORNS AND ROSES might be for you!