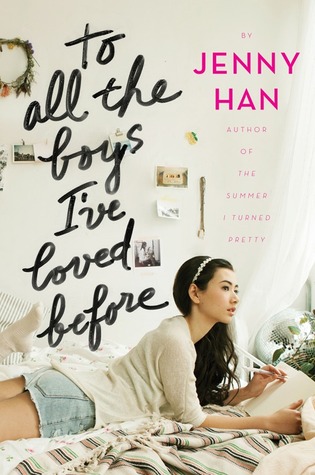 Lara Jean writes love letters for catharsis, to get over each of the boys she's had crushes on. She never intends to send them. But one day, a boy approaches her at school, her letter in his hand, and all Lara Jean's private thoughts are out in the open. Including how she really feels about her older sister's ex-boyfriend.
The synopsis hook for TO ALL THE BOYS I'VE LOVED BEFORE revolves around Lara Jean's love letters being distributed to their recipients, but really, that's only a small piece of the story. In fact, I was surprised by how little it factored into the overall book. It's really just an inciting incident, a springboard that sets the story on its path. I don't want to give anything away, though; it's more fun to be surprised!
Jenny Han writes high schoolers very well. Peter's (one of the recipients of Lara Jean's letters) dialogue felt especially real to me, his jokes and behaviors could've been plucked right from my own high school hallways. I enjoyed the relationship between Lara Jean and her two sisters, Margot and Kitty, as well. Their dependence on one another, their arguments, their traditions (like their cookie baking extravaganza at Christmas)…everything felt real to me.
Several reviews I've read complain about Lara Jean's voice, particularly how young it sounds. On one hand, I agree. She sounded more like a high school freshman than a junior. BUT I think her voice fit her character well. She's a little naïve, a homebody who loves cookie-baking and sweater sets. She keeps her love letters in a hatbox. She rarely curses. She's never had a boyfriend. To me, when taking her personality and experiences into account, her voice sounds like I'd expect it to. And as I read, I started feeling big-sisterly protective of her. I kept wanting to scoop her up and give her a hug!
I had tons of fun reading this book. It's sweet and focuses just as much on family as it did Lara Jean's boy drama, which I love. I will be picking up the sequel P.S. I STILL LOVE YOU to see how Lara Jean's story ends!