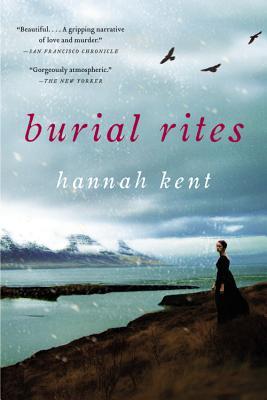 Charged with murdering two men in Iceland, Agnes is sent to live with a family on their isolated farm to await her execution. The family members—particularly the matriarch and one of her daughters—are horrified at the prospect of housing a convicted murderer, but as they get to know Agnes, they learn there is more to her than the ruthless and cold-blooded reputation society has given her. And perhaps even more to the story of the night those men were murdered.
I heard about this book from BookTube (YouTube's community of book reviewers) and the rumors that Jennifer Lawrence has signed on to star in the film adaptation. I was a little nervous to read it because I don't have much experience with historical fiction, but everyone gave positive reviews of the book. It turned out to be a great starter historical fiction novel for me! The setup was intriguing (in a morbid way) and even though I knew how it ended, the book still had plenty of suspense. It's clear as you read that there's more to Agnes's story (and the crime committed) than we are initially told, and that propels the story forward.
The prose is beautiful as well. Just look at the first paragraph:
"They said I must die. They said that I stole the breath from men, and now they must steal mine. I imagine, then, that we are all candle flames, greasy-bright, fluttering in the darkness and the howl of the wind, and in the stillness of the room I hear footsteps, awful coming footsteps, coming to blow me out and send my life up away from me in a gray wreath of smoke. I will vanish into the air and the night. They will blow us all out, one by one, until it is only their light by which they see themselves. Where will I be then?"
The word choice throughout the entire book provokes this anxious inevitability and yet beautiful imagery. The landscape of Iceland is its own character, cold and unforgiving at times, just as society is toward Agnes. And the reader is offered several points of view: snippets of historical documents (letters, announcements, even the order for the execution axe to be made), third person past tense POV of the family housing Agnes and the reverend acting as her spiritual guide, and Agnes's first person present tense inner monologue.
I admit, I had a difficult time with this subject matter, especially because I felt for Agnes so much. The book lets you pass your own judgment on her character, though. It's not insistent on whether she is a good or bad person. I had this feeling of dread throughout the whole book, which made it a powerful reading experience. I read the book in two days, much faster than I'd anticipated. It's a tough read emotionally, but it's also captivating and beautiful. I finished it around midnight and could not sleep afterward because the story is so haunting. Highly recommend, especially if you're looking to start out in the historical fiction genre.