For today's post I'm teaming up with
Invaluable.com
, an online auction house with a huge catalog of rare books. Pretty much everything I know about auctions I learned from that episode of Gilmore Girls where Lorelai and Michel attend the charity auction that Emily organizes.
But this week I learned that not every auction involves waving a numbered paddle in the air! Invaluable has asked me to assemble my ultimate wish list full of books and bookish items I'd love to win at an auction. Naturally I jumped at the opportunity!
Some of the items on my list are currently up for auction at Invaluable (links included), while others I dreamt up.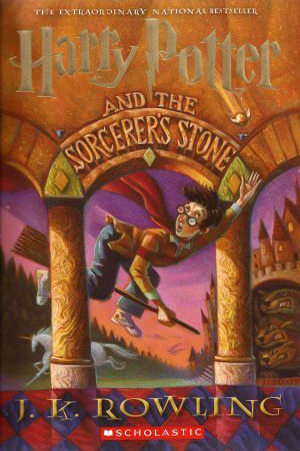 1. An autographed copy of Harry Potter. If you've ever read my blog before, this should come as no surprise. Any of the books would send me over the moon (my favorites, however, are SORCERER'S STONE, GOBLET OF FIRE, AND DEATHLY HALLOWS). I would also try and snatch up anything Harry Potter related that J.K. Rowling has touched. A poster, a napkin with HP draft notes on it, a Sharpie she used when signing books…I'm not picky!
2. A signed Hunger Games box set (THE HUNGER GAMES, CATCHING FIRE, MOCKINGJAY). This series has made me think, made me question how I view society, and has given me characters I'm so attached to. I'd love to have a collectible autographed set.
4. Beautifully bound works of literature like this
Franklin Library Ltd Ed Literature Book Lot
. It includes Poe's THE TELLTALE HEART AND OTHER STORIES, Hemingway's A FAREWELL TO ARMS, and T.S. Eliot's SELECTED POEMS. How stunning would these spines look on a bookshelf?
5. And where would I put all these rare, bookish finds? On a bookshelf, of course! Maybe one like this American Oak Bookcase. Gotta display your books proudly!
And there you have it, my dream book auction haul. Be sure to check out Invaluable for their rare and antique books as well as the many other items they auction off, from jewelry to tea sets to sculptures.
Now tell me: what book would make you jump up and down if you spotted it at an auction?