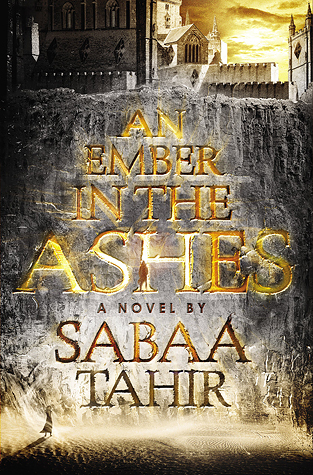 In a fantasy world based on ancient Rome, day to day life is brutal. The Scholars were long ago defeated and enslaved by the militaristic Empire. Laia, a Scholar girl, witnesses her older brother being arrested for treason but does nothing to stop it, a choice she instantly regrets. She sets off to find the Resistance, a group set on defying the cruel empire, and strikes a deal with their leader. They will rescue her brother from prison if Laia infiltrates Blackcliff military academy as a spy.
Elias is top of his graduating class at Blackcliff, a Mask, expertly trained in combat. Only Elias doesn't want to serve the ruthless Empire—he's planning to desert, an offense punishable by death. But the current emperor's bloodline is ending and a competition is put in place to crown a new emperor. Elias may not be as close to escaping as he hoped.
Laia and Elias's storylines intersect to create a fast-paced, addictive novel. AN EMBER IN THE ASHES, Sabaa Tahir's debut, is full of plot twists (ones I didn't see coming) and well-developed and flawed characters. I went in knowing little about it, just that other people loved it, and I was thrilled with the story I found. At points it is brutal—violence inflicted on the slaves, in particular—but it furthers our investment in Laia's mission. We're scared for her, we root for her, we cross our fingers she will succeed.
The characters are wonderful. Normally in dual POV books I have a favorite, but I love both Laia and Elias equally. Neither story overshadows the other, and both are equally compelling. The secondary characters are great as well, especially Helene, Elias's best friend and fellow Mask. The chapters switch back and forth, and they are woven together at the perfect points to hide (and reveal) important pieces of information.
AN EMBER IN THE ASHES was initially marketed as a standalone, but Penguin has just picked up a sequel for publication. We will definitely be seeing more of this world, thank goodness! I can't wait to see what Sabaa Tahir has in store for us next.