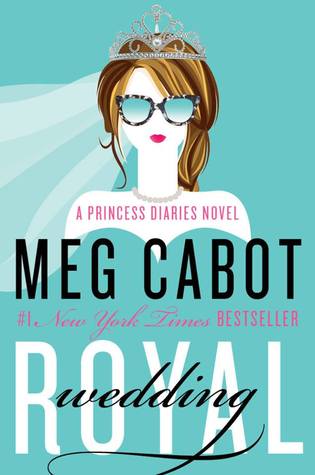 She's back, folks! Princess Mia is now twenty-six, but as usual, her life is full of drama. Her father is about to lose his re-election as Prime Minister of Genovia after being arrested for racing his new sports car through New York City. His competition, Mia's cousin Ivan, wants to turn Genovia into a tourist trap with trashy nightclubs and cruise lines. And on top of all that, Michael has a mysterious glint in his eye that makes Mia sure he's keeping a secret…
One look at the title and we all know what Michael's secret is. It says so right in the synopsis: Mia and Michael (FINALLY) get engaged! But planning a wedding without Mia's crazy grandmother, the Dowager Princess Clarisse Renaldo, taking over is more than a little challenging. Not to mention, Mia's father is keeping a secret of his own, one that might threaten the future of Genovia.
When I first heard about ROYAL WEDDING, I was pretty sure it was a joke. The last Princess Diaries book, FOREVER PRINCESS, came out in 2009, long ago enough for me to consider the series over and move on. But Meg Cabot apparently has perfect timing because just two months after the birth of Princess Charlotte, royal baby number two, ROYAL WEDDING was released. The world definitely has royal family fever, and it plays a part in this new book. It's full of references to Kate (who always seems to come out on top in the "Who Wore It Better?" battles with Mia) and George, and there's a new level of social media that wasn't present in past Princess Diaries novels: a ranking website called Rate The Royals, which Mia is obsessed with following her ranking. In the six years since the previous book, Mia has also acquired a stalker, known only by his social media name, RoyalRabbleRouser.
The first thing I noticed is Mia's voice. The tone is exactly like her high school diaries. On one hand I enjoyed the consistency (I was a little concerned she'd sound like a different character after a six year break from publishing), but I also hoped for a little more evolution of Mia's character, especially since this book is marketed as adult fiction instead of YA. Mia does become more involved in Genovia's politics and opens a community center for teens in New York, but she mostly still sounds eighteen and clueless. It takes her an unbelievably long time to figure out Michael's "surprise" for her birthday. I'm still not sure how I feel about it because this is Mia's personality (at least it was when she was in high school), but after all this time as a princess, you'd think she'd be a little better at handling these types of situations.
Other than that, I really enjoyed this book! There were surprises, some I saw coming, others I didn't. One I didn't love? Within the first few pages we learn Mia's stepfather/former math teacher, Mr. Gianini, died of heart failure years earlier. No! And then the hint is dropped that Mia's dad is angling to get back into Mia's mom's life. Not a huge fan of that twist. But I loved seeing all Mia's friends are still in her life, Lilly and Tina especially. OH, and also Fat Louie, Mia's very old—and very fat—cat.
If you grew up with Princess Mia like I did (we even finished high school at the same time!), you can't not pick this book up. I loved being able to snoop through Mia's diary one more time!