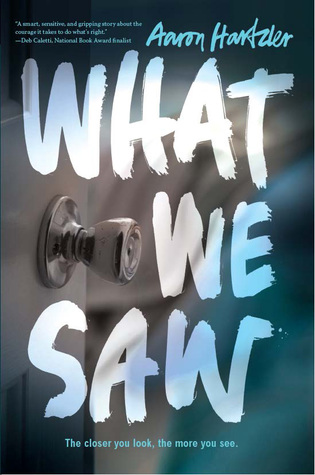 Kate's memories of John Doone's party are fuzzy. After too many shots with Stacey Stallard, her childhood friend Ben drives her home—and possibly lets on that he wants to be more than friends. A fun, great night, right? But then a picture surfaces online of Stacey passed out and slung over Deacon Mills's shoulder, and soon the police burst into the school cafeteria and arrest four star basketball players. Stacey's pressing charges, and everyone in town seems to think she's to blame.
As evidence is slowly uncovered through Instagram photos and Twitter hashtags, Kate tries to piece together what happened. She dodges a persistent journalist and tries to listen to her parents' warnings to stay out of the drama, but Kate's not as ready to blame Stacey as the rest of the town seems to be. She wants the truth: what really happened at the party? And where was Ben when it occurred?
Aaron Hartzler's WHAT WE SAW is based on the Steubenville rape case of 2012 where a young woman was assaulted at a party by members of the high school football team while intoxicated and unconscious. The crime was recorded through texts, tweets, photos and videos, so even though the victim had no memory of it, much of the timeline could be pieced together. WHAT WE SAW changes certain details (the boys in question are on the basketball team, for example) but the heart of the story remains. This all-American small town receives notoriety as the Rape Case town, but who are the people who live there? What do they think? Are they evil, trying to stage a cover-up of a horrific crime? Or do they stand with the accuser and want to find the truth?
ALL THE RAGE by Courtney Summers is one of my favorite books of 2015 because of the spotlight it shines on rape culture and victim blaming. WHAT WE SAW takes the critique a step further by making social media its own character. The party inspires its own hashtags, and the police confiscate many phones as part of the investigation. It also examines silence as complicity, particularly within Kate's circle of friends. Stacey presses charges and essentially destroys her already bruised reputation—the town looks down on her clothing choices, alcohol and pot use—and no one wants to go down with her.
I really enjoyed how the commentary on consent and violence against women wove its way into other aspects of the story, from song lyrics at the Spring Fling dance to Kate's geology class. Her teacher, Mr. Johnston, might be my favorite character despite his limited page-time. No spoilers, but his response to a student's comment (toward the end of the book) about the rape allegations made me want to stand up and cheer!
This story is tough to read—horrifying at times—but its messages are important. Hartzler handles the situation well, showing a cast of characters with varying opinions on the rape charges. His dialogue is spot on, too. It's a heavy book, but if (like me) ALL THE RAGE made you think about society's unfair treatment of assault victims and you want to explore that further, pick up WHAT WE SAW today. It's Hartzler's YA fiction debut (his memoir, RAPTURE PRACTICE, is marketed as YA nonfiction), and I can't wait to see what's next from him.