Joining Katy Upperman for a quick catch up this week! Here's what I'm "Currently..."
Loving
My new coffee mugs! I got two from my friends for Christmas/my birthday. The first is a ceramic mug that also comes with a travel lid (multi-purpose!) and says "You had me at coffee." It's really tall, which I love in a mug. The second is wide (perfect size to wrap my cold hands around and warm them up) and has a cable-knit pattern…a sweater mug! It accompanied my other present, Jenny Han's P.S. I STILL LOVE YOU, and I feel like Lara Jean would approve of a sweater mug!
*Sidenote: I put a LOT of thought into my coffee mug preferences. Not sure this is normal!
Reading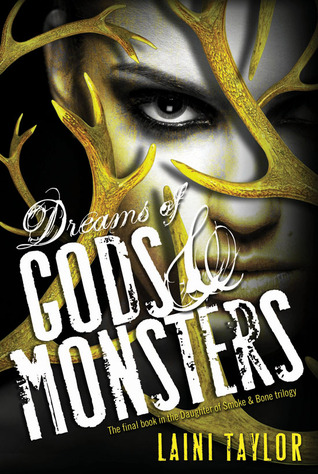 DREAMS OF GODS AND MONSTERS by Laini Taylor. Finally finishing this series! I read DAYS OF BLOOD AND STARLIGHT over the summer, and the plot twists (I never saw them coming!) sold me on the story. Can't wait to see what's in store for the finale!
Watching
Tonight is episode two of Shadowhunters on ABC Family/Freeform. I've actually already seen it because they put it online last week, but I'll be watching it again. The City of Bones movie let me down SO much, so it's not hard for the TV show to be better. The Mortal Instruments was my introduction to the YA world (apart from Sarah Dessen), so I'm pretty invested in it.
My opinions on the show so far: great casting (Kat McNamara as Clary, in particular), okay writing (the way they worked in the backstory was clunky but got the job done), and I'm on board with most of their changes so far (ie. making Luke a detective investigating the same murders as the Shadowhunters). Here's hoping the episodes get better and better!
Listening To
I've been listening to/salivating over Sam Hunt's acoustic version of "Break Up in a Small Town." His voice is VELVET SILK HOT CHOCOLATE COZY SWEATSHIRTS. I just want to cuddle up with it. <3
Thinking About
Rebalancing my writing time. I did SO well from June-October, but I took a break the past few months from writing every single day. Saturday has become my main writing day because my mind is fresh (not exhausted from work) but I can't only write one day a week. I'd get nothing done! Back to evening/lunch break writing I go…
Anticipating
The 5th Wave movie hits theaters this Friday! I'm a big fan of the book AND Chloe Grace Moretz (I think she played the perfect Mia in the If I Stay movie), so you'll definitely find me in the theater...possibly with my dad! I'm turning him into a book-to-movie adaptation lover! First Hunger Games, then The Martian, and now The 5th Wave!
Wishing
I wish more of my gym's yoga classes fit into my schedule. I go to two a week and am itching for a third (I think I'm starting to plateau, yoga-wise). I'd really rather not stay after work for a class—my evenings are short and busy enough as it is—but maybe once in a while I'll give it a try.
Making Me Happy
Still flying high from a great 25th birthday on the 8th.

I spent my birthday with my family, then went to a college friend's for the weekend…and she surprised me with our other best friend from school! We stayed awake until 6 AM catching up!
Your turn...what have you been up to lately?