Linking up with
Katy Upperman
for another "Currently" post! Here's what I'm currently...
Loving
Reading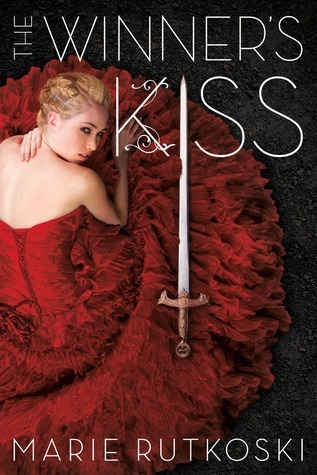 I just finished THE WINNER'S KISS by Marie Rutkoski. Such a perfect finale to a series I love! All three books have delicate yet sharp prose, and the lines are laced with symbolism. I won't spoil anything, but if you're looking for a fantasy series about strategy, war, and political intrigue, I highly recommend the Winner's Trilogy!
I also finished Jennifer Longo's UP TO THIS POINTE, which follows a young ballet dancer whose lifelong plan to dance in a professional company goes south—so she does to. To Antarctica, to be exact, to intern at a scientific station where she has family ties. The combination of Antarctica and ballet is fascinating, and Harper's struggle with the loss of ballet (and The Plan) is so relatable. I hadn't heard any buzz about this book (I found it on a GoodReads recommendation) and I think it's deserving of some chatter!
Right now I'm reading MISS PEREGRINE'S HOME FOR PECULIAR CHILDREN by Ransom Riggs. So far it's not as scary as I assumed it would be. The pictures, though, are a little creepy.
Watching
The new trailer for Fantastic Beasts and Where to Find Them! So…anyone else developing a crush on adorable (and my fellow Hufflepuff) Newt Scamander?
Listening To
HARRY POTTER AND THE HALF-BLOOD PRINCE audiobook. The HP audiobooks are my favorites—Jim Dale, the narrator, does character voices and makes the story even more magical! I borrowed it from the OverDrive app, which (now that I'm using it) I can't say enough good things about.
Thinking About
The amazing Books of Wonder for getting my entire order of Emery Lord books personalized at her signing last week! They even wrapped the books before putting them in the box. I'm starting to discover great independent bookstores that sell/ship signed books (or do personalization promotions with authors), and now that I'm saving tons of money by borrowing books from the library, I can spring for full-priced autographed books from some of my favorite authors.
And thanks to Emery for signing all three books for me! She has become one of my favorite authors (and my new favorite person to follow on Twitter) and I can't wait to read WHEN WE COLLIDED.
Seeing one of my best friends from college in a few weeks! We're celebrating her birthday. I haven't seen her since January, and we always have the best time watching Disney/musical movies and singing along!
Wishing
I need there to be more hours in a day so I can read all the amazing books I've recently acquired. All my library holds came in at once (THE WAY I USED TO BE by Amber Smith, LUNCH IN PARIS by Elizabeth Bard, NO BAGGAGE: A MINIMALIST TALE OF LOVE AND WANDERING by Clara Bensen). I borrowed MISS PEREGRINE'S HOME FOR PECULIAR CHILDREN from a friend, and I'm seeing her in a few weeks and want to return it…so I need to read it. I'm also trying to read some classics this year, so I bought EMMA by Jane Austen to try.
Making Me Happy
Melissa McCarthy is returning for the Gilmore Girls revival! My mom told me I looked like I was about to throw up with shock when I first saw the news because I was so terrified it was a joke. But it's REAL! All is right with this revival now!
What have you been up to recently?